Enter text to generate a font, copy and paste anywhere
Preview Fonts
The font is a set of characters that represent written language. Fonts are made up of individual letters and numbers that combine to form words or phrases. The combinations are called characters. Each character has its shape and size, so they can be easily identified by sight even if you don't know what language they're written in (English letters like G vs. H look different). Have you ever wanted to create your fonts? Finding a font can be challenging, whether for a design project or just because you're curious. This tutorial aims to teach you how to create a font generator that allows you to use different fonts, sizes, colors, and more!
Fancy Fonts And Cool Text Fancy fonts are the best things ever. It is because it makes your designs look more appealing and attractive. The font is essential in terms of design as well. The text will be more effective if you have a nice font for it. You need to input basic information about your text, such as its size and font type, and it will generate a high-quality logo or any other kind of text you want.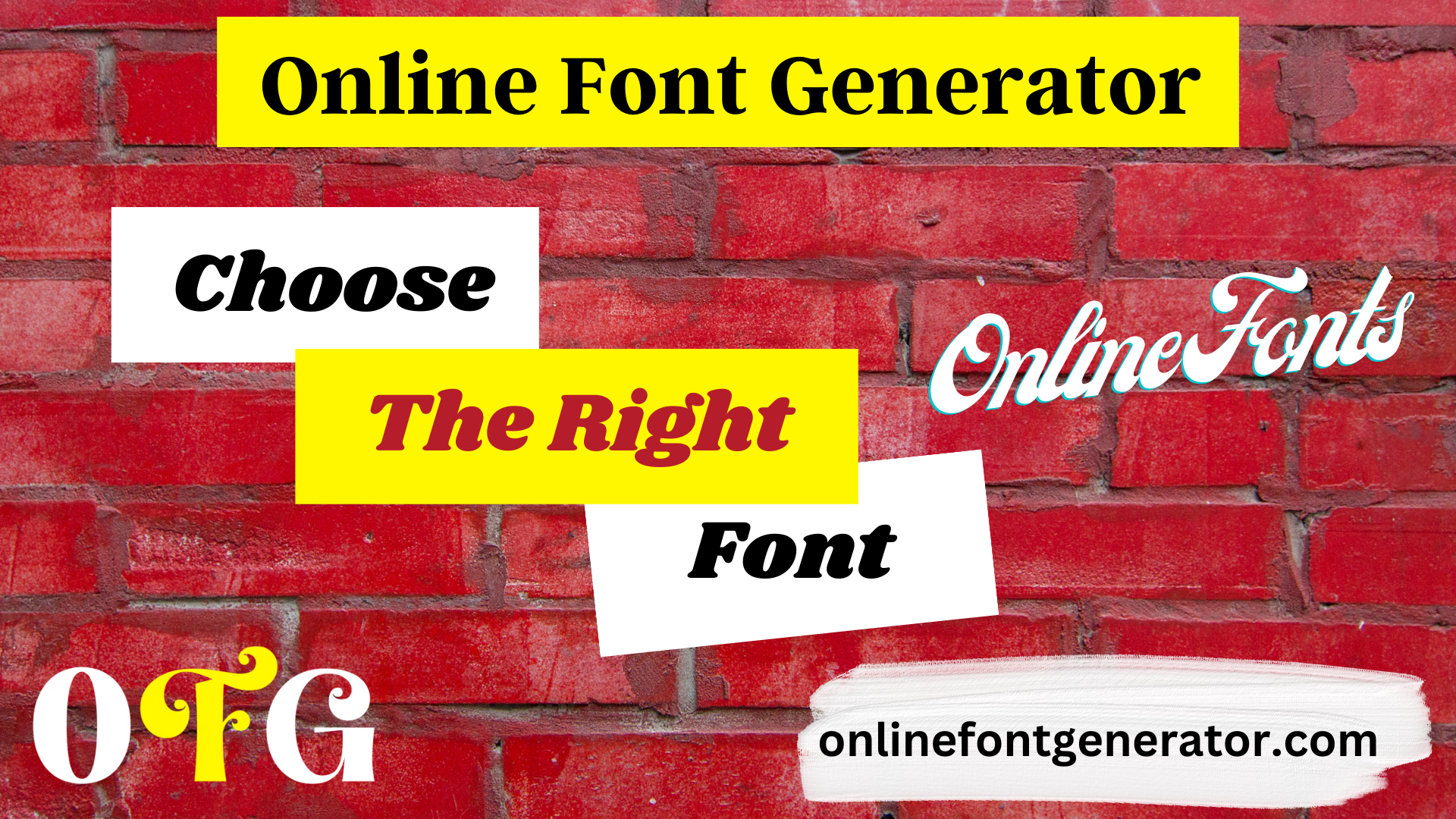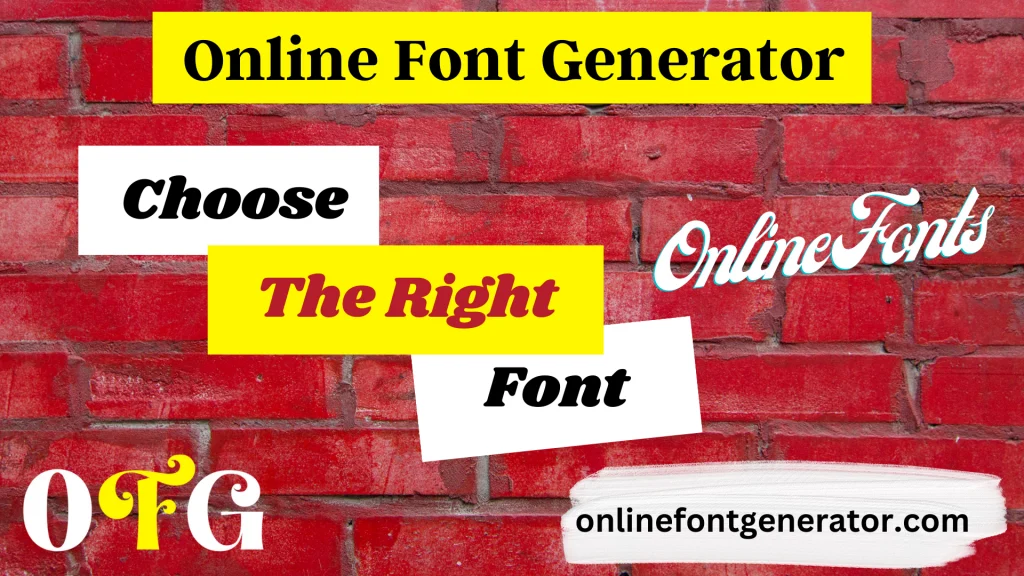 The Font Is Everything!
One of the first things people see on your website is its font. And one of the best ways to do this is by using a free font generator like Online Fonts Generator! This tool allows users to choose from thousands of fonts and customize them with color schemes and design elements (such as size). After creating their custom styles, they'll be able to use them immediately on any project without having to pay anything upfront–and it won't take long before they're ready for print!
Why Is This Useful?
If you're a web designer or developer, you know that creating and maintaining fonts can be time-consuming. You must find the right font for your project and ensure it looks good on screen. But what if there was a way to generate your Custom fonts for a one-of-a-kind brand identity? Continue reading we will discuss it later!
Firstly! Why this is useful? There are many reasons: You can use them in your projects without spending hours finding the right one. It's just one click away! You don't need permission from anyone else—you're free to use them however you want!
Where To Start?
Well, this guide is for you! This article will go through all the steps involved in generating your fonts. We will also discuss why it's essential to have access to great free fonts and how you create your own font online. This article will cover why you should use different fonts on your website and blog. We'll also talk about some of the most popular types of fonts out there. 
Elevate Your Text with our Incredible Fancy Type Generator
Looking to give your text a stunning makeover? Your search ends here with our Fancy Type Generator! If you're tired of the same old fonts and want to add a touch of creativity and flair to your text, this tool is your new best friend. Whether you're crafting a unique project, designing captivating visuals, or simply aiming to grab attention on social media, our Fancy Type Generator has got you covered. With an extensive array of stylish fonts and captivating text effects, you can effortlessly transform your plain text into extraordinary works of art. Bid farewell to mundane fonts and embrace a world of boundless creativity with our Fancy Type Generator! Explore a plethora of fonts, styles, and effects that will breathe fresh life into your text, all conveniently located in one place.
Benefits Of Using Fonts Creator For Design And Marketing
Online Font Generator is a free tool that allows you to create fonts. It's easy to use and saves you money by allowing you to create your fonts instead of paying for them. If you have ever wanted to create something unique, then the fantastic text generator may be right for you. It is easy to make cool-looking fonts without technical knowledge and without spending hours. Do you want to create a unique font for your business, website, or project? You can use our font generator to create a new design quickly. All the fonts are unique, secure, and safe. Some benefits are here:
Reduce Clutter
Unique font generator for personalized design and help you create a font that will be beautiful and easy to read. It is essential when using fonts in your designs and marketing materials. You want people to be able to read what you've written without having difficulty or confusion about what they're reading. Avoid using too many fonts in one design! It might seem obvious, but sometimes we need to remember our advice when trying out new things or experimenting with different options for our next project (or even just designing something quickly). 
Improve Your Branding
Another benefit of using fonts is creating a consistent brand image for your business. You'll want to use the same fonts across all your marketing materials, such as website headers, use small text generator for stylish social media posts, titles, and bio text. It will make it more accessible for people to recognize who you are and what kind of products or services you offer.
Create A Lasting Impression
Fonts can make a lasting impression on your customers. They are to express your brand, create a unique and memorable customer experience, convey a message, or even make the design more interesting! Suppose you have an existing website or blog that you want to update with new branding elements. In that case, Fonts Creator is an excellent way of doing so without worrying about losing any functionality in the process.
Create Consistency
Creating a consistent image for your brand is one of the most important things you can do. It helps you to stand out from the competition, build trust with your customers and build a loyal customer base that will stick with you through thick and thin. Fonts Creator has been created by people who understand this concept, so they know what it takes to create effective marketing materials that are memorable and effective in getting the message across.
Creative Flair
You can add a little creative flair to your text design, making it stand out from the rest. A cool font is unique and different from other fonts. It's essential for a person who wants to create an image or brand with their business or product, so they should choose a unique name for their company.
User-Friendly Fonts
Online Font Generator is a user-friendly font editor that allows you to create and edit fonts. The program has many features, including creating and editing multiple styles used in any document or webpage. Fonts generator also allows you to change the text size in your font and set each character's type, style attributes, and font family name.
Improves Readability
A tool allows you to create easy fonts on the eyes. It is significant for designers who are working with small font sizes, as well as those who have to deal with font sizes that are set to the smallest number available. By using OFG, you can create fonts that are clear and readable at any size.
Benefits of Using an Online Font Generator
Many benefits come with using an online font generator. These benefits have been mentioned below in detail, but in this article, I will go over them one by one and tell you why you should use an online font generator to create your custom fonts.
Unlimited Times
You can use our Generator for unlimited times. You will not be charged again and again if you want to customize your fonts and themes. So you don't need to worry about losing money on every project. Moreover, suppose you have a company or an organization. In that case, it's easy for you to use this tool because it doesn't require any payment details like credit card information or bank account numbers, etc., which means there are no restrictions in using it!
Secure And Safe
An online font generator is safe as no viruses or malware are involved. You only need to upload your content and generate the desired font style for your website. It saves you from any malware on your computer system or any other device you use for work purposes. The data that the online designer generates will be stored safely on their server so that they can avoid being hacked by hackers or scammers who might try to steal your information or funds by using malicious software programs on your devices or computers while downloading fonts from the website.
Unique Textured Font
You can order a unique textured font for your project or site in a few seconds. Can use the generator as often as possible and start designing from scratch with a new font if needed. You can use the fonts for unlimited projects and websites. It means you won't need to pay extra money each time when ordering another font just because you need more than that for your project or site! 
Professional And Appealing Fonts
The use of a font generator is beneficial for many reasons. It can create professional and appealing fonts. Individuals or businesses can use a font generator. The benefits of using OFG are numerous, but the most crucial advantage is that it makes creating custom fonts easy and fast.
Various Font Styles And Sizes
The internet has made finding the perfect font for your design more accessible. Online font generators do a lot of the work for you, but they can only sometimes give you precisely what you're looking for. That's where choosing the right font for your project is essential. You can choose between various font styles and sizes. You can choose from different fonts, colors, sizes, and weights. It also allows you to add unique elements like shadows or other effects to your text.
Easy To Use And Navigate
Online Fonts Generator is an easy-to-use tool that allows you to create custom fonts for design projects. The interface of this generator is quite simple and intuitive, so it's easy for anyone with some basic knowledge about text editing. You can use this tool without any issues. 
Eye-Catching Designs
The ability to create unique and eye-catching designs. Adding a little creative flair to your text design will make it stand out from the rest—the ability to choose between various font styles and sizes. You can use fonts to create many designs. For example, you can use fonts for creating a logo, poster, or website. You can also create a PowerPoint presentation with these font styles. You can even use it in your expressions and make them more attractive by adding words and images.
Free Of Cost
Fonts are available for all. Whether you are just starting to learn the art of designing or want to create your font, it is free of cost. Fonts are one of the most important aspects of any design, and many designers must rely on them to create a professional-looking design. However, purchasing fonts from the stores can be very expensive, or even making custom fonts to use in your next design project. An online font generator can provide users with free fonts they can use in their designs, which is excellent for those who don't want to spend money on something they might not use anyway.
Creative Typography
Fonts can help your design stand out from the crowd. They give your brand the right look, ensuring that you're consistent with your brand identity and providing a solid emotional connection between you and your audience. You can use this text design generator for creative typography to get inspiration and ideas. It contains many examples with gorgeous typography, beautiful ornaments, and a font you may like to use in your next project.
Tips For Using Free Online Fancy Text Generator To Enhance Your Design
Online font generator is a free online tool that allows you to create unique and beautiful text. You can use this tool to add an image or any other element as a border around your text, change its size, weight, line spacing, etc. This post will share tips on using text generators to enhance your design.
Choose The Right Font
If you're using a free online fancy text generator, choosing a font that is easy to read is essential. It can be by checking out Google Fonts and finding one that fits your needs or even going out and buying one from an independent designer. You should also ensure that the OFG is compatible with all devices, especially smartphones, and tablets, which support all fonts.
Add A Border To Your Text
You can also add a border to your text using one of the many free online text generators. It will give your design a decorative effect, which is excellent if you want to create something more professional or organized. You can also use borders as an organizing tool, ensuring that all your content lines are perfectly on each line of your design. If you want something sleek and modern-looking, adding borders will help achieve this goal!
Change The Size Of Your Text
An excellent way to use fancy text is by changing the size of your text. For example, if you use a font appropriate for your audience and website, then make sure it's a manageable size. This will help you achieve a professional look without spending too much time on it.
Change The Weight Of Your Text
Change the weight of your text. Bold, italic, or underline? What font do you use? There are many options available to choose from when creating fancy text. You can also change the thickness and width of your text by using different fonts with different weights, like bold, thin, or wide fonts.
Change Line Spacing
Use a line spacing of 1.5 – This is probably the most common, and it works well for most designs. Use a line spacing of 2 – This can be used for larger font sizes or when you want more space between lines in your text. And use a line spacing of 3 – If you're going for something big and bold, this might work best for you! It's also helpful when using fancy fonts that don't have many characters per line (like serif fonts).
Add Shadows To Your Text
Shadows are a great way to add depth and dimension to the text. They can be used in conjunction with other effects like drop shadows and glows, as well as alone on their own. You can use an image for this effect, or if you want something more subtle, try a line style instead (more on this later).
Add A Drop Shadow To Your Text
The shadow effect is one of the most popular and easily recognizable tricks to add to the text. With this approach, you can create a subtle text shadow that follows the contour lines of your design. It's super easy! All you have to do is use an image or line style that matches your chosen font, then apply it as a filter over the top of your existing text (which should be black).
Marketing With Font Converter: How To Stand Out From The Crowd
Marketing is an essential part of any business. It would help if you created awareness in your area so that when you get people to your site, they will want to buy. It uses fonts, colors, and images in your content. Many methods can use to ensure you get the best results with marketing. This article describes how font converters are helpful for your business marketing strategy.
Attention-Grabbing Headlines
It is an excellent tool for bold fonts for attention-grabbing designs and headlines. You can choose the font, size, and color of your headline using the preview option. The most important thing is to choose the correct font. If you want to stand out from your competitors, use a bold or unusual typeface that will catch people's attention more than other fonts. Try using serifs like Garamond or Myriad Pro instead of sans-serif ones like Arial or Times New Roman!
The next step is choosing a size for your headline: The more significant and bolder it looks on paper (or screen), the more likely people will notice it – even if they're scrolling through their Facebook feed while reading another article at work! It means that if there are two pages worth of text in an article before yours appears (which happens often), chances are high that someone will read everything before getting back onto theirs again – which means they'll be able to see what links lead back here without having any trouble remembering where they came from initially."
Boost Social Media Posts
If you are a social media marketer, Font Converter is a great tool. You can use it in your posts and get more likes and comments. One of the best things about this font converter is that it allows you to put any typeface into it, so you can use it as many times as wanted without paying anything extra each time!
Create Attractive Infographics
When creating an infographic, you can choose between text and images. Images can help show the audience what you're talking about, but it's better to use text for this reason:
It's easier for someone unfamiliar with your product or service to read it. People who do not know your product/service may not even notice any copy at all–they're just reading the image itself and nothing else. So if they look at one part of an infographic and think, "Oh yeah! That looks cool!" but then move on without reading anything else (like "Oh wow! This guy has delicious taste"), then they won't get any points from learning more about what you do than anyone else would have had they just seen an image alone too instead of being exposed to words as well."
Design Attractive Emails For Business
Use a font that is easy to read, scan, remember, and share with others, such as social media or email templates you can use for different audiences and situations (for example, an email for potential customers vs. one for existing customers). Choose an image you like in the same style as the text, so it looks good together!
Modify Your Brand Identity
Fonts are one of the essential parts of a website's design. They're used for everything from headings and subheadings to logos and sentence spacing. Font choices can make or break a website's functionality and aesthetics, so choosing the right fonts for your brand is crucial.
Font Converter makes it easy to find the perfect fonts copy and paste for your business. You'll be able to choose from thousands of free fonts on Fonts Direct or upload your custom typeface files if you have them available. There are many ways to change the look of your brand. You can use a different font, add a logo to it or even add a tagline to it.
Advanced Techniques For Creating Custom Fonts And Texts
As you know, many ways to create custom font makers for brand identity exist. Some of them are easy. Others require more effort but can be rewarding in the end. Here are advanced techniques for creating custom fonts and texts:
Creating custom fonts and text styles is a great way to make your website look how you want it to. You can use them in various ways, from headings to body copy and even on images or other elements on your page. In this article, we'll review some techniques for creating these custom elements so you can start immediately!
Using Font Variants
Font variants are different versions of the same font. They provide Instant text conversion with font changer tool options for styling your text and can be used to create a more dynamic look. Font variants are also beneficial when creating headings, subheadings, and paragraphs because they provide different ways to style each part of your text.
You can use font variants in many ways, but we'll cover just two: serif and san serif fonts. Serif fonts have small lines running down the middle (like Times New Roman), while san serifs have more extensive lines at both ends (like Georgia). The best thing about using these two types is that they give you even more flexibility when styling your text!
Getting Creative with Text Orders
Text order is the order the text is displayed. It's one of the most important aspects of typography and can make or break your design.
Text order can be used to:
Creating Your Text Styles
You can create your text styles, simply a collection of CSS properties you apply to an element. You can define these styles as a whole document or just one piece. To create a new style, follow these steps: Select the text you want to format by clicking on it with your mouse; this will highlight all instances of that type of text in your document.
Creating Separate Styles for Headings
It's important to know that you can create separate styles for headings, subheadings, and paragraphs.
Conclusion: The Future Of Font Creator
It's easy to get caught up in the whirlwind of new trends and features when building your next design. However, it's important to remember that you can only sometimes rely on the latest technology or software to create the best methods possible. You'll want to take advantage of more innovative online tools.
It is a tool for creating custom fonts. It also uses a fancy font style for copy and paste and a font changer that generates cool fonts for Instagram and other platforms. It's been around for years and has been used by millions of people worldwide to create their designs. However, there is one thing that is holding back the future of Font Creator: its price. The program is free to use. Now that you know, there's no reason not to try it! We've included links at the bottom of each section which will take you directly to resources where you can learn more about making these changes.
Frequently Asked Questions About All Font Converters